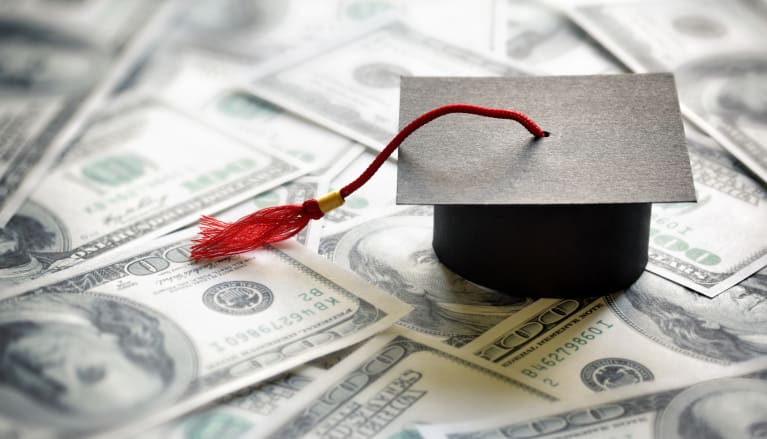 The college admissions bribery scheme that recently rocked the nation demonstrates just how important some parents think it is for their children to attend a prestigious school.
Do employers, recruiters and education experts think the same?
Some do. Some don't.
"Studies of senior managers and hiring managers [show] that graduation from an elite institution plays a significant role in the hiring process," said Lynn Pasquerella, president of the Association of American Colleges and Universities. But, she added, "there is an unfounded assumption that [graduating from a top school] will translate into stellar performance in the workplace."
The scandal includes Yale, Stanford, Georgetown and Wake Forest universities and the University of Southern California, with some parents spending hundreds of thousands of dollars to guarantee their children's admittance to the schools. By comparison, the average annual cost of tuition and fees at a private, four-year college is $29,478, according to the U.S. Department of Education's National Center for Education Statistics.
Foot in the Door
Most people interviewed for this article agreed that graduating from a prestigious university certainly helps young adults land that first job, and typically a well-paying one. When a recruiter or hiring manager sees "Yale" on an applicant's resume, that imparts instant credibility, said Brian Scala, a recruiter at McFarlane Aviation Products in Baldwin City, Kansas.
"The difficulty in entering schools with restricted admissions speaks volumes to the dedication of the student at the time of entry," said Scala, who was once a recruiter in higher education. "Course requirements can be significantly more daunting, especially at schools of research, which leads me to believe that a strong focus is required to complete courses."
Nicole Belyna, SHRM-SCP, a member of the Society for Human Resource Management's (SHRM's) Talent Acquisition Special Expertise Panel, says that a candidate from a big-name college could initially pique a company's interest, though she notes that, in today's work world, that interest may not be as strong as it has been in the past.
"The initial impression is that the person has completed a challenging and rigorous program, so [he or she is presumed to be] highly intelligent and ambitious," said Belyna, who is president of the Washington, D.C., SHRM chapter. "For some companies, it is important that their recruiting strategy still include targeting prestigious schools such as Harvard or Yale. That said, many companies are acknowledging that top talent can also come from competitive state colleges and universities."
Today's companies, she noted, are also "savvy enough to know that they need to look at the bigger picture and see all that the candidate brings—relevant work experience, military service and education. I am always interested in hearing … how did they come to attend the school? Was it scholarship-based? Sports? Legacy? Are they the first in their family to graduate from college or attend a prestigious school?"
While a degree from an eminent college is admirable, "it's becoming more and more common for employers to see value in a well-experienced candidate, which doesn't always require an elite college education or any college education at all," said Amelia Green-Vamos, a trends analyst with Glassdoor, an online provider of company ratings and salaries. "More and more, recruiters at companies like Google, Apple, Bank of America and more are filling roles where meaningful experience translates to the equivalent of a university degree."
The Big Picture
What about down the road, after workers from a reputable college have been with a company for a while? Do they tend to be stars? Climb the career ladder more quickly than others? Earn more money than colleagues who attended lesser-known schools?
"Usually, they are driven to succeed," said David S. Twitchell, SHRM-SCP, who is vice president for human resources at Catholic Charities New Hampshire in Manchester, N.H., and also a Special Expertise Panel member. "I have only seen a few [cases] where the education did not match the drive for the job, but that was mostly a rare event and probably in my lengthy career, once or twice is all I have seen [that happen]. Typically, they come from a long line of successful families, and it kind of follows that they themselves will be, too."
But that doesn't mean employees from schools with less cachet can't compete with colleagues from better-known institutions, Scala said.
"In my experience, employees from Ivy League schools fare about the same in most areas as their colleagues from non-prestigious schools," Scala said. "Today, HR uses performance metrics to a much greater extent than they did 25 years ago. This provides data on employees that is unbiased—and managers have a more difficult time justifying advancement solely based on expectations of performance from Ivy Leaguers. The fact that HR and hiring managers have grown to trust performance metrics—that levels the playing field."
Fringe Benefits
There is an extra benefit that comes with a degree from a prestigious college, one that not only helps the graduate of a top-tier school get his foot in the door but that can also help him land better-paying jobs in the future. That benefit is powerful alumni networks. Such connections smooth the career road for many of these graduates.
Moreover, Pasquerella said, hiring managers who themselves have graduated from a top-ranked school tend to be comfortable hiring those who have done the same.
"There are hidden biases that lead companies to miss out on a lot of talented, hard-working individuals," she said.

The median annual earnings for an Ivy League graduate 10 years after starting a career amount to well over $70,000, The Washington Post reported in 2015. For graduates of all other schools, the median is around $34,000. For those graduating near the top of their class, the disparity is even greater, the Post reported. The top 10 percent of Ivy League grads are earning $200,000 or more 10 years after leaving college. The top graduates of other schools, on the other hand, are making just under $70,000.
Beware Retention
For employers, there's a significant downside to hiring graduates from top-notch schools, said Steven J. Lindner, Ph.D., who is an executive partner for Florham Park, N.J.-based The WorkPlace Group and a Special Expertise Panel member.
"Those from Ivy League and more prestigious universities were significantly more likely to leave," he said. "In the first years post-graduation, these students tend to have more job opportunities available to them than those from lesser-known institutions. Recruiters tend to seek them out."
Lindner has 20 years of experience in HR, recruiting thousands of graduates from hundreds of universities.
"Smart, talented people come from everywhere," he said. "Recruiters, hiring managers and employers should stay focused on the candidate characteristics … and avoid the biases associated with a person's alma mater."